As we all know, an aperitif at O'Sullivans without a pint of beer is as unthinkable as a summer without sunshine! We enjoy our pint any time of the day, but what do you really know about this wonderful drink?
Zythology, study of beer making, an ancestral craft
Zymology, the study of beer brewing, is an ancient craft. The earliest signs of beer-making go back about 5,000 years to ancient Mesopotamia. The Sumerians developed the practice of fermentation to produce beer. They used bread as a source of sugar mixed with water and yeast to make an alcoholic beverage that was often used in religious ceremonies.
In the Middle Ages, beer became an important drink in Europe where it was used as an alternative to drinking water that was often unfit to drink. The monks in the monasteries were the pioneers of beer production in Europe using local grains and herbs to create rich and complex beers.
Over the course of time, beer making became an important industry in many regions of the world, with breweries appearing in countries like Belgium, Germany, Great Britain and the U.S.
Do you know what ingredients are used to make beer?
There are just 4: water (90%), hops, grains and yeast.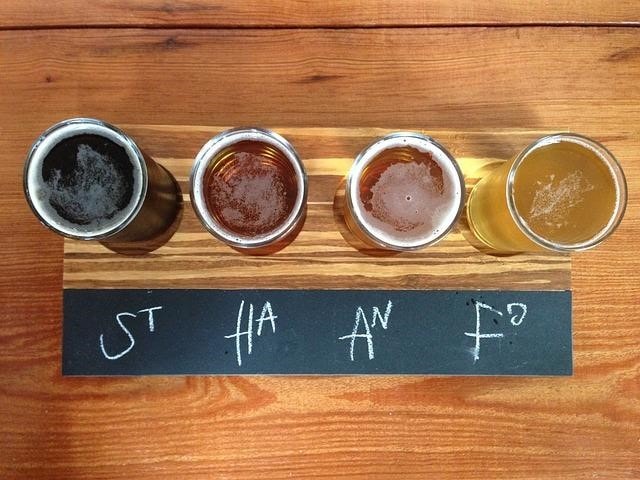 Now there's a quare variety of types of beer to be had
The main ones being :
Lagers: These are the most common and widely consumed beers in the world. They are made from yeasts that ferment at lower temperatures, giving a mild and light-bodied flavour. They are a pale yellow colour.
Pale Ales: This is a type of beer blended with pale malts. They are usually hopped with American or British varieties of hops that give them an aromatic and slightly bitter taste. They are more golden, almost amber-coloured.
Indian Pale Ales (The IPAs): This hopped beer style originated, in fact, in England. They contain a generous quantity of aromatic hops and bittering agent that give it their characteristic bitter taste and a definite hop aroma. Their colour ranges from golden yellow to dark orange.
Abbey Beers: This beer style was originally blended by monks in Belgian abbeys. They usually have a complex flavour with notes of malt, yeast, and dried fruit. Some abbey beers may have spicy notes as well, such as cinnamon or coriander. Their colour can range from pale blonde to dark amber.
Stouts: These are beers that are brewed with roasted malts. They have a thick and creamy texture and a characteristic taste of roasted malt, coffee and dark chocolate. They often have caramel, hazelnut or dried fruit notes as well. Stouts can be hopped but malt tends to dominate the flavour. They go from dark brown to opaque black and the most famous of all is, of course, Guinness!
Sours: This is a style of beer that is characterized by its tangy, acidic taste. Unlike traditional beers brewed with yeasts that convert sugar into alcohol, sours undergo lactic fermentation that gives them a subtle acidity. They are often flavoured with fruit such as cherries, apricots or raspberries, adding a depth of complexity of flavour. They are usually light yellow in colour.
For several years now beer-drinking has been booming and many micro-breweries are springing up in France and indeed world-wide. These craft breweries produce small quantities of beer with the finest of ingredients and innovative brewing methods. It's a trend that has been gaining popularity thanks to the increasing demand by the customer for superior, locally-produced craft beers. The micro-breweries offer a large variety of experimental and unique beers offering a special drinking experience. Some, however, are perhaps not altogether convincing with their mix of peculiar ingredients such as bacon, sea-water, oysters or even pizza! Given the small quantities produced, the micro-breweries can create unique flavours and aromatic characteristics with various types of malt, hops and yeast. Take, for example, the Paname Brewing Company, micro-brewery that makes very aromatic beers like Sour Mango, beetroot ginger (La Harmonie) or a coffee and hazelnut-flavoured stout (Midnight Espresso).
For some time now the beer market has been undergoing a transformation and non-alcoholic beer is establishing itself as an essential product. At one time considered as tee-totalers' drinks, non-alcoholic beers have gained popularity amongst customers who want to enjoy the unique taste of beer without the undesirable effects of alcohol. In 5 years consumption has risen by 147%, one of the most significant increases in the independent brewing sector.
It has to be said that non-alcoholic beer has changed a lot over recent years. The choice used to be pretty limited and didn't offer much variety of flavour. Many craft breweries have now embarked on the adventure, becoming more and more creative in offering non-alcoholic versions of many types of beer. From Pale Ale to Sour Beer and IPA to even Stout, you can now enjoy an excellent beer without alcohol.
At O'Sullivans we are real beer enthusiasts and our different Irish Pubs work with the top brewers to offer you the finest products and a range of different beers for a unique beer experience.
Whether you prefer your beer light or strong, fruity or spicy, bitter or tangy, there's a beer for every taste and occasion in our pubs irlandais !
Whether you're already into the micro-brewery world or just curious to discover more about it, plan a visit to the Paname Brewing Company and enjoy a unique beer experience.